Well first… you just can't resist the hair. You've got your blond sweep of Zack Morris, the waves of Kelly Kapowski, the curls of Jessie, Lisa, and Screech… to die for. Am I right, or am I right?
Image Source: collegefashion.net
Then what about the fashions? Who can resist Zack in a patterned sweater or Slater in his wrestling uniform? Then of course there's the work out outfits the girls wore. There's nothing quite like early 90s teen sitcom fashions.
Image Source: huffingtonpost.com
Or do you remember the antics of Zack Morris? He pulled the craziest tricks and scemes. For any other person, everything Zack did would have been considered slefish, childish, and irresponsible. But not Zack. He won our hearts with only a slick smile and that rad mobile phone. Besides – not all of his antics were bad. He even helped a woman give birth once. What more could you want in a man?
Image Source: whatculture.com
Saved by the Bell was for many of the introduction to the classic love triangle. Who would Kelly pick? Zack or Slater? What would they do to win her heart this week? We were on the edge of our seats eagerly awaiting to see which one would be her boyfriend! Then, while she decided, we watched Zack woo the hearts of all of the other girls in school. A guy has to do something while waiting for the girl of his dreams, right?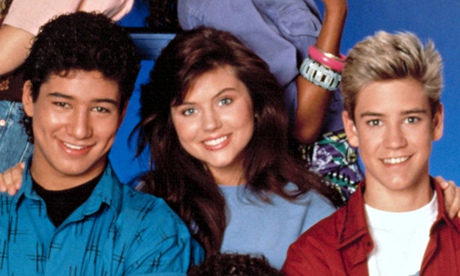 Image Source: theguardian.com
The holiday jobs! Somehow, all of the Bayside crew landed the same summer jobs and gigs at the mall over Christmas. They were living the high school dream.
Image Source: weheartit.com
Then, of course, there were the valuable life lessons. How the cool kids interacted with the geeks. How to tell if your class ring was fake or not. How to dance with a guy who is shorter than you. Or – the most important lesson of all: never use caffine pills.
Image Source: imgarcade.com
While the gods of the TV world have tried to recreate Saved by the Bell with the college years and the new generation – for some reason they just haven't been able to recreate the magic of the original. Will we ever see another Zach, Kelly, Slater, Jessie, Lisa, or Screech? Who knows. But we do know – we can always watch the re-runs.